I been challenged by
Liss
, and yeah believe it or not, I am one of those who likes to be challenged!
Write six positive things about yourself.
Post a picture of yourself that you like.
Challenge six other people.
-I am good at talking with people(talker/listener)
-I am creative
-I don't care about what I eat
-I'm happy with myself
-When I decide on something, I usually reach my goal
-I have good taste in music, books and film
And I don't think I want to challenge six other people, but I encourage you guys to take on the task. So the first six who volunteers to take on the challenge, gets the challenge. Please leave a comment so I can check it out.
So the picture you get to see, is today's outfit! Strong bright colours makes me happy and it (almost) always looks cool. As you probably can notice, I think I'm a little inspired by the song "Call On Me". I am not sure if that is a good thing, hehe...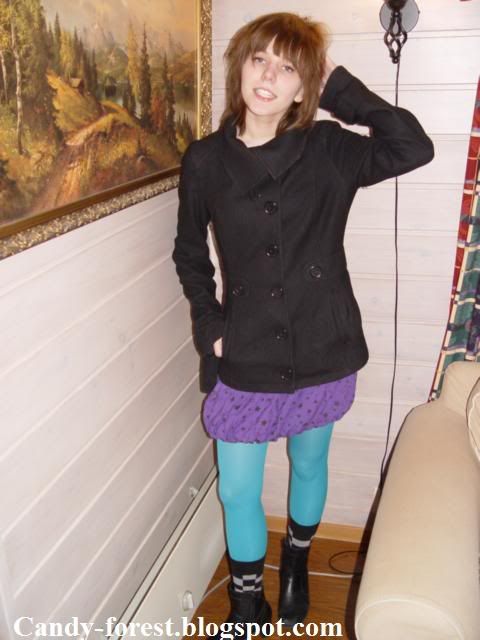 Clothes:
-My purple mushroom mini skirt, with stars on it.
-Black basic top
-A bright, kinda blue, tights
-Black mid-heel shoes
-Socks that looks like a chessboard
-My black jacket

Maybe a weird combination, but I like it! No better day to wear "screaming" clothes, than on a Friday just before weekend. Or wait a minute, all days are good days for "screaming" clothes.
Have a nice weekend every one!