This is not much to ask of you my dear readers, but please read trough this.
We have all heard about it, and some of us do something about it, and someone do not. The reasons for just ignoring this could be several. It could be that you know too little about it, or it could be that you simply just don't care. But then, let me tell you something about this industry.
Each year hundreds of thousands of innocent animals are suffering, so that we can be a little bit more beautiful. The cruelty humans are preforing on these animals are beyond words.
It is not just make up that is tested on these poor animals. Toothpaste, shampoo, soap, hairproducts etc is also tested on them.
They either test the complete product on the animals or the several different ingrediens. Cute little animals like bunnies, dogs, hamsters etc have to live under terrible conditions, and get tortured every day.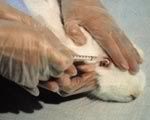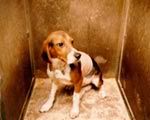 The different methods they use to test the products/ingredienses:
They strap the animal's arms and legs so that they are not able to move. And then they trip the substance into the animal's eyes(often bunnies) to see if they react to it. They often do. Then their eyes swell up, get iritated, get red, and they get an infection. This is extremly painfult for them.
Another method that they use is that they shave the animal's fur away and then they anoint the substanse to their skin. Sometimes they even rasp ut their skin to do the testing. This creates an open wound, which will probably never heal. And the pain for these animals is unbeliveble.
The third method thye use is that they force the animals to either inhale, swollow, or they inject the poison into their body. One way or another that poison is going into their body. Not long after they are left there to die.
And one important thing to remember is that the animals never get painkillers when they are being tested on! When they are not tested on, they are put in small matal cages where they can not move an inch. They can not even sit up strait.
This is animal tortur on it's worst!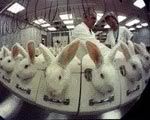 And now you may think that this industry do not have any other choice, but let me tell you, they have! The companies that do not test on animals use different methods. You can for exaple use human cells, computer models or testing on volunteers. These are perfectly fine methods. They do not harm anyone, and the products do not cause any difficulties for the users.
If you feel sorry for these animals, then do something about it! You can't go around telling everybody about how awful this is, if you are not doing anything about yourself. You have to start with you!
I do not use any products that are tested on animals. When I really got into this I changed all my products. This may seem like a hard thing to do, but it is really not. You can aford making a few changes for these poor animals. I changed my make up, deodorant, toothpaste, shampoo etc, and it was not a big deal. You can easly find cheap suggestions if that is the thing you are worried about.
To make it all a little easier for you I will link to these pages, and then you can see which products uses animal testing:
These test all their products on animals
These have vague answers to if they test on animals, so we have to asume they test their products on animals
These do not test their products on animales
I hope this was a informative post and that you were inspired to do something about this problem. You do not have to do much for the change, but you do a great deal to the animals!